What a happy friggin holiday
Hope everyone had a great holiday! I had fun spending time with the fam and giving and receiving gifts, including this lovely new Nikon D3000 that I have no idea how to operate (but thanks for the surprise, Dad!), a new TV and a TV cabinet from IKEA (thanks Mom!), which FriendBoy and I put together in record time. I'm telling you, trying to make 378 pieces of compressed wood and a smattering of screws into something resembling furniture is the true test of a relationship.


Setting up the new stuff made me want to clean out the old, and in the process of clearing out (some of) the darn near ceiling-high stacks of magazines I've accumulated over the years, I came across my prize publication: The September 1993 issue of American Vogue. Can you believe I still have this? A testament to my pack-rat tendencies.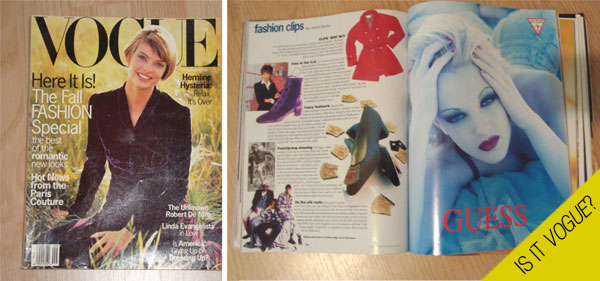 There are some…"interesting" early 9o's throwbacks in the issue, including Drew Barrymore's Guess ad, an article about the revival of punk (I guess some things never change), and page after page of "New Romantic" looks–think Linda, Kate, and Christy sporting layers of velvet and paisley and Seinfeld-esque puffy shirts! It's just too good not to share, so once I get my scanner situation figured out, I'll post some images.
How was your holiday? Did you do anything exciting?