No Limit(ed)
I'm so busy/distracted putting together the next issue of Style Sample that I almost* forgot to post the winner of The Limited $25 gift certificate!
And the winner is…
Emily!
I'll be in touch with the info via email, dear!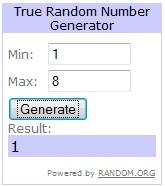 I used the random number generator to be fair, but it's really not necessary when there are only 8 entries. Does no one shop at the mall anymore? Ah, well…
*By "almost" I mean I totally forgot to do it even though I remembered I needed to. Does that ever happen to you?