I forgot my mantra
The clocks turn back this weekend, which means it's officially Fall, which means the next six months will consist of me gazing longingly at my summer sundresses and cursing my parents' choice to raise me in frosty Ohio instead of on a lovely Caribbean island where fruity drinks in pineapples and naps on the beach are a way of life. Thanks, mom.
But I digress. What was I saying?
Oh, right, it's Fall. The onset of cooler weather makes me feel kind of Annie Hall/Charlie Girl/Diana Ross in Mahogany–lots of menswear-inspired separates in warm neutral tones.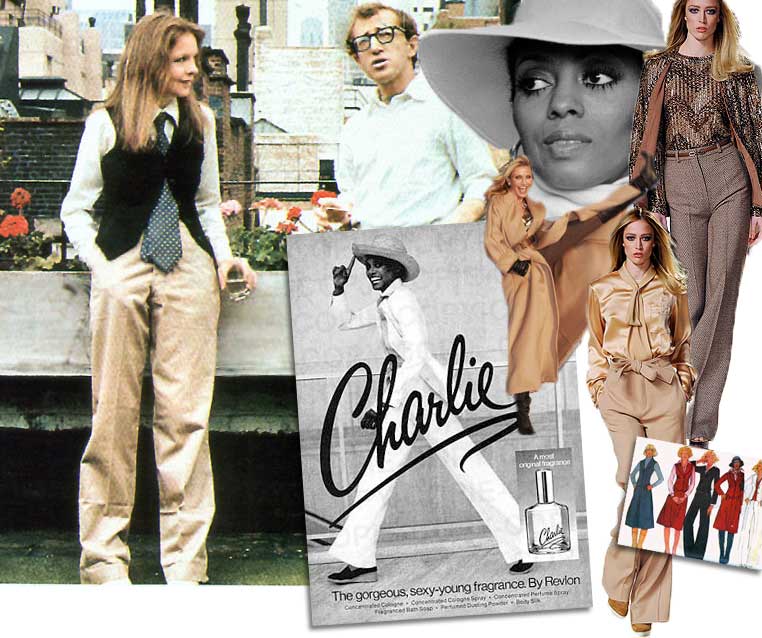 Images: MGM, Revlon Inc., Paramount Pictures, Harper's Bazaar, Style.com, etsy
I played around with a pair of baggy pleated trousers, a thrifted tie-neck blouse, a knit vest, and platform heels until this happened:
Anthropologie trousers; thrifted blouse, vest, bag, and shoes; Jamawar scarf
I've been deep conditioning my hair (hence the beret) so I couldn't swish it around for no reason like in the Charlie commercials, but trust, that will come soon.
Don't forget to Fall Back this weekend!