Trendspotting: Denim Cutoffs
Top to bottom, L-R: Bitching and junk food, myfashionlife, Aphrodite's Lair, Mode d'amour, Fashion makes the world go round, Hallie Daily, PopSugar, Queen of Hearts, Come over to the dark side we have candy, The Haute Pursuit, Elle.com
Denim shorts are not so much a trend as they are a summer staple–they've been around forever and will probably be worn by mutant roaches in some post-apocalyptic dystopian society of the future. Right NOW, though, high-waisted, light-wash, ragged cut-offs are a fashion blogger essential, so I'm contractually obligated to bring you the following:
"What's that in the distance…?"
Thrifted top and purse, vintage shorts, Moth cardigan, Jeffrey Campbell shoes
I guess my cutoffs are technically vintage, though I'm hesitant to call them that because they used to be a pair of jeans I got back in junior high.  To acknowledge their vintage-ness is to admit that I'm TEH OLDZ, which is never fun. Ugh.
However, if you're NOT a clothes-hoarder and don't hang on to raggedy jeans for 15+ years (what are you, SANE?), you can buy 'em new! Or old!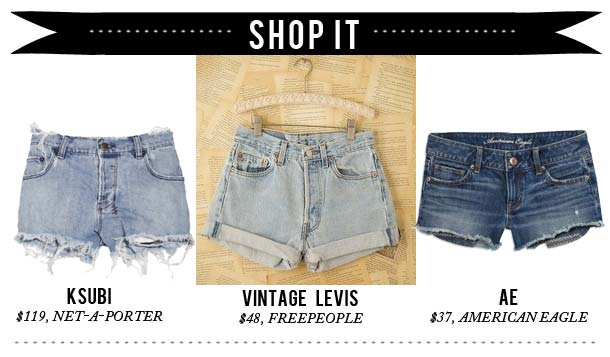 There's really no right or wrong way to wear cutoffs–dressed up with a blouse and heels or dressed down with a tee and flats–it all works. How do you wear yours?