How To: Dissect Runway Fashion
It's Fashion Week(s)! While the relevance and timing of runway shows has been hotly debated, they're still a very important part of the industry. At some point during the Fashion Week hullabaloo, someone unaccustomed to the intentional outrageousness of fashion shows–they're called SHOWS for a reason–will say something like "who would actually wear that?" (Clearly, they're unfamiliar with the likes of people like Daphne Guinness and Anna Dello Russo, who revel in bringin' the cray-cray.)
The answer to that question is: it depends. Designers often show a few pieces that showcase their creativity and their vision for the season's collection, which are created specifically for the runway and use in editorial for magazines like Vogue. Those are the looks meant to garner news coverage (free publicity!) and spark sales for the designer's perfume/cosmetics/handbags/other highly profitable divisions.
Styling makes a difference
However, sometimes the clothes look "out there" simply due to styling. To truly appreciate the more offbeat runway looks, it helps to dissect them. I like to look at all of the elements together, then break them apart and re-imagine the possibilities for each individual piece.
Break apart and re-imagine: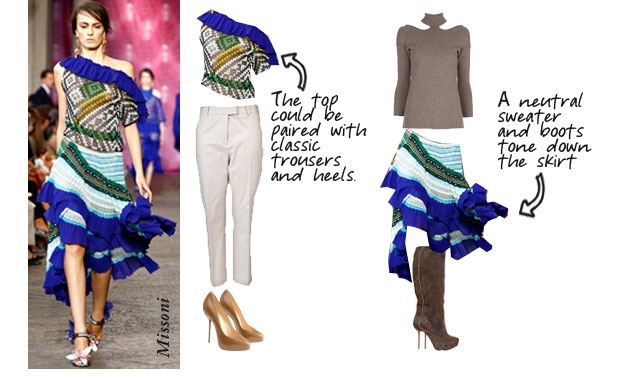 Of course, part of the fun of fashion is mixing things up in unusual ways and being outrageous and unpredictable. When the mood strikes, put on your gold sequined military gilet and WERQ!