STF + Radiant Cosmetics Giveaway WINNER!
Cheers all! I'm back from vacay (more on that later) and have consulted my giveaway expert, Mlle. Random Number Generator–she ees French, you know–to determine the winner of the Stop Traffick Fashion + Radiant Cosmetics giveaway. Drumroll, please…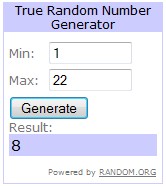 The 8th commenter was Courtenay! Congrats, girlie! I'll be in contact via email with the details to claim your prize.
Thanks to everyone who entered!