Dear Santa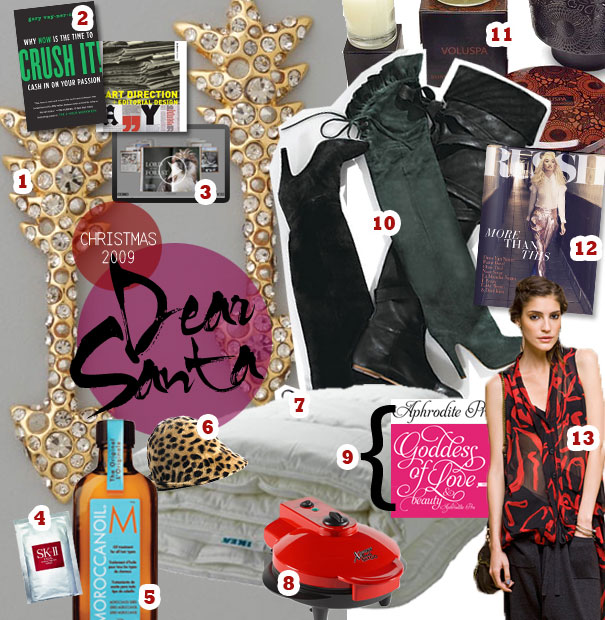 I figured I'd better let everyone know what I want, just in case y'all have extra money lying around. Because, you know, so many people do these days.
1. Alexis Bittar arrow earrings I love the tough-glam vibe these give off.
2. Crush It by Gary Vaynerchuk and Art Direction & Editorial Design by Abrams Studio Motivate and create, baby!
3. Subscription to Lynda.com There's so much out there to learn, and I've found the video tutorials here to be really helpful for learning everything from CSS to Illustrator.
4. SK-II Facial Treatment Mask Perfect, moist, glowing skin in 20 minutes? Yes, please!
5. Moroccan Hair Oil Yes, it's made with argan oil, which is pressed from argan nuts retrieved from the poop of Moroccan goats. Obviously I'll do ridiculous things for nice hair. 'Cause I'm vain.
6. Reinhard Plank Alpino hat For the days I run out of Moroccan Oil.
7. IKEA Mysa Ljung comforter I can't pronounce it either, but it's so soft and snuggly. I'd wrap it around me like a cape and turn down the heat in hopes of saving on my electric bill.
8. XPress Redi-Set-Go Grill I could make Fancy Gourmet Meals in just 15 minutes! It has dual heating elements to cut cooking time in half! And I saw it on TV, so you know it must be good.
9. Aphrodite Pro Font Family Might as well embrace my inner font, excuse me, typeface nerd and move from the free stuff into paid. I love all the swashes and flourishes in this family.
10. Chloe Thigh-high boots In my dreams, obviously, but the green suede version has been haunting my footwear fantasies for the better part of a year.
11. Voluspa Burmese Rosewood candle Warm and soft, but not too sweet. Perfect for cold winter nights.
12. Subscription to Russh magazine One of my favorites (though, apparently, there are no black people in Australia), but it's a bit costly to pick up at the newsstand every month.
13. Rachel Rachel Roy draped sleeveless top The print fits in with my color scheme, and I love the tunic length and assymetrical hem.
So, that's my wish list for Santa. What's on yours?