Projects: Lessons from a Drag Queen
So remember when I was MIA from the blog because I was working on work as well as several other projects? Well, some of the fruits of that labor are now available for public consumption!
Lessons from a Drag Queen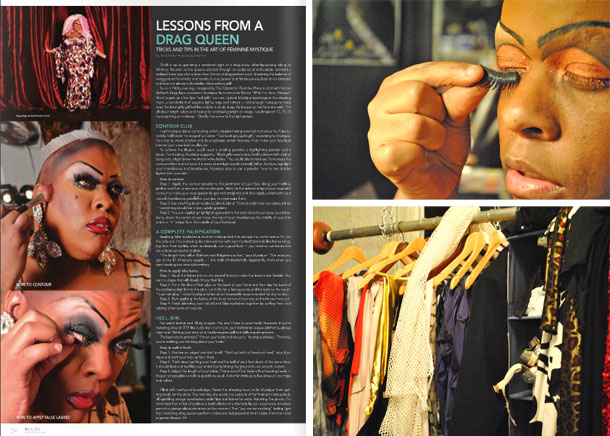 For Lessons from a Drag Queen, I interviewed drag performer Mystique Summers for the March issue of Her Cincinnati to glean some tips about the skills that elude many women, like the proper way to walk in heels and the secret of contouring (pro tip: step away from the banana powder, ladies). Mystique (aka Dante) was gracious and open, and spending time in the Cabaret's dressing room with her, Penny Tration, and Monica St. James was just as entertaining as you think.
Sadly, the March 2013 issue will be the last issue of Her Cincinnati, so I'd like to acknowledge everyone who brought Her and its predecessor A-Line to life. I'm proud to have been one of the many women who contributed to the spirit, wit, and style of those publications, and they will be sorely missed.