Fall Wish List
Ever since the weather cooled off and the days got shorter, I've been looking forward to getting down to serious (fashion) business. While summer is all about being floaty and carefree, cooler weather means disciplined layering, and this Fall I'm all about structured minimalism and sharp contrast. Here's what I'm looking forward to wearing: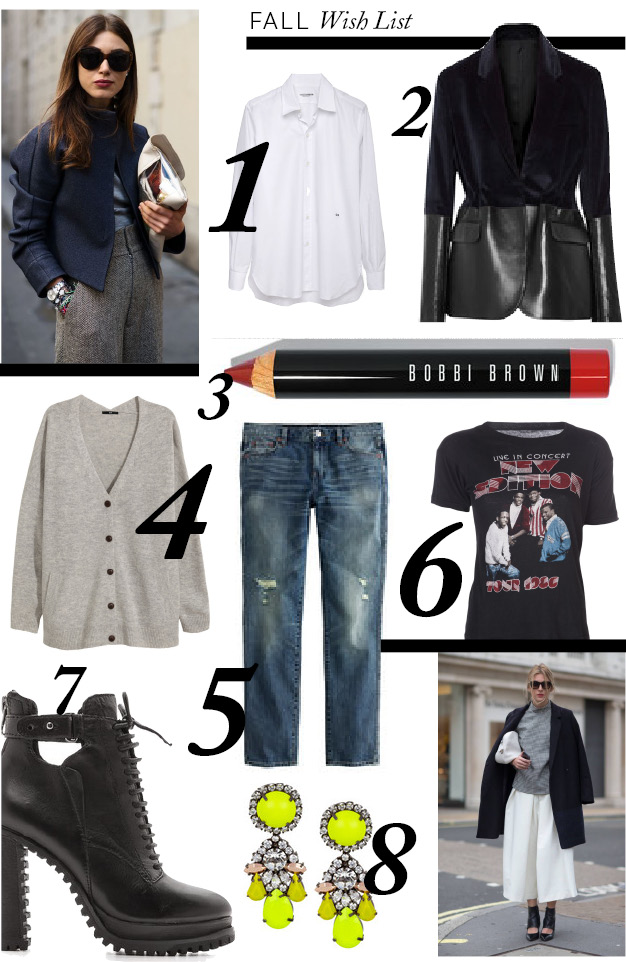 1 // White shirts I would like to wear white button-down shirts with everything, please. Bonus points for anything tunic length with a shirttail hem.
2 // A textured jacket or blazer I love navy and black for that French feel.
3 // A bright tomato-red lip pencil I look like a scary clown when I try to wear lipstick, but I'm hoping a lip pencil might be an easier-to-apply-correctly alternative.
4// A cozy cardigan I will wear this with everything I own whenever temps dip below 40.
5// Boyfriend jeans  All my jeans are tight skinnies, which is not so comfy when you've been spending the better part of the day eating tasty seasonal pies.
6//Vintage tee Because it's important not to look like you're trying too hard.
7// Lug sole boots Yep, still. I'm convinced they're comfortable, even with a heel.
8// Sparkly colorful earrings Something to add a little color and glam to all these austere neutrals.
SHOP IT!
What's on your list?