Shop // Local Gift Guide
I'm a big fan of shopping small local retailers, and I work with these businesses so much that I consider many of the business owners friends. However, I'm also a fan of sitting at home on the couch and shopping online–I mean, that's just common sense. For a while it seemed as if never the 'twain should meet, but many Cincinnati-area retailers have gotten hip to the e-commerce game and offer a variety of their goodies online. I took the liberty of rounding up a few of my favorite gift items for your shopping pleasure:
GIFT GUIDE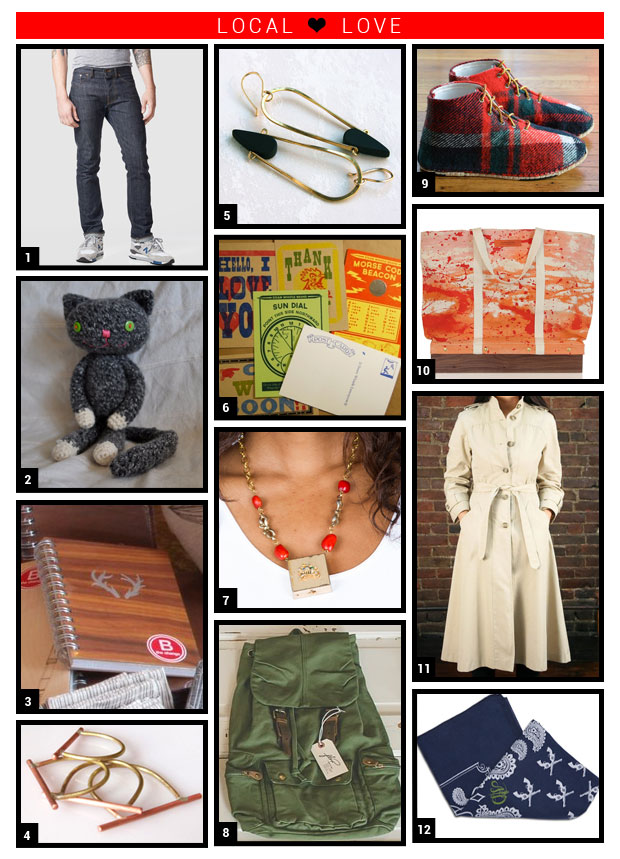 [col grid="2-1″]
1. Noble Denim Earnest Slim straight-leg jeans, $250
2. luvkt Ferdinand the Second grey cat, $24
3. Ecojot Horn rosewood  journal, $10 at MiCA
4. Line & Loop brass bar ring, $24
5. Rock Salt Vintage teardrop brass hoop and black onyx earring, $35
6. Steam Whistle Press letterpress postcard pack, $9
[/col]
[col grid="2-2″]
7. Emily Lyn Vintage Square Locket USB drive necklace, $45 at Curate
8. LIMI backpack, $64 at Flow
9. SmartFish Footwear blanket lace-ups, $195
10. Brighton Exchange Buster Bag, $220
11. On the Prowl Vintage '70s trench coat, $72
12. Artfully Disheveled The Outlaw pocket square, $55
[/col]
[hr color="black" width="600px" border_width="1px" ]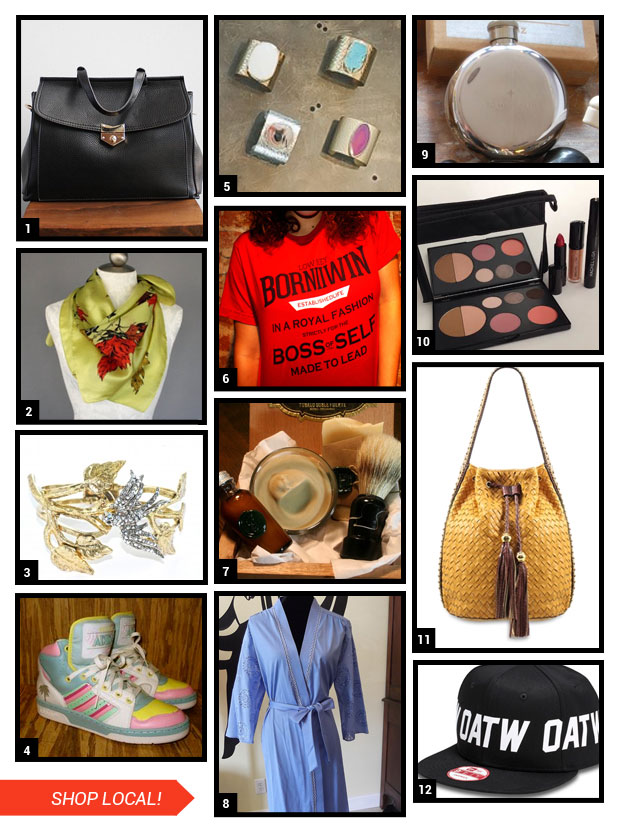 [col grid="2-1″]
1. Vegan top-handle satchel, $64 at Substance
2. Anatomy Vintage silk square scarf, $19.50
3. Adorn USA Antique Silver Bird on a Gold Vine bracelet, $110
4. Adidas JS License Plate sneaker, $110 at UnheardOf
5. Charlene K large cuff bracelet, $160 each at Sloane
6. OTR Born II Win tee, $25
[/col]
[col grid="2-2″]
7. Orange Fuzz Eco-friendly shaving kit, $48
8. Feraud cotton robe, $372 at La Silhouette
9. "To My Health" stainless steel flask, $24 at MiCA
10. Rachel Lisa Dawn to Diva kit, $120
11. Melie Bianco Vivian woven bucket bag, $99
12. OATW snapback, $35
[/col]
Happy shopping!