How to Create Your Content Marketing Strategy
A clear content marketing strategy will help you produce faster, better content with less guessing and less stress.
I know you're a busy business owner, but hear me out: When you take some time to think about what you want to be known for, who your ideal customers are, and how you can serve them with your content (and ultimately your services), your content will DO THE WORK FOR YOU.
Which means more sales, more money, and more time. Here's how to start: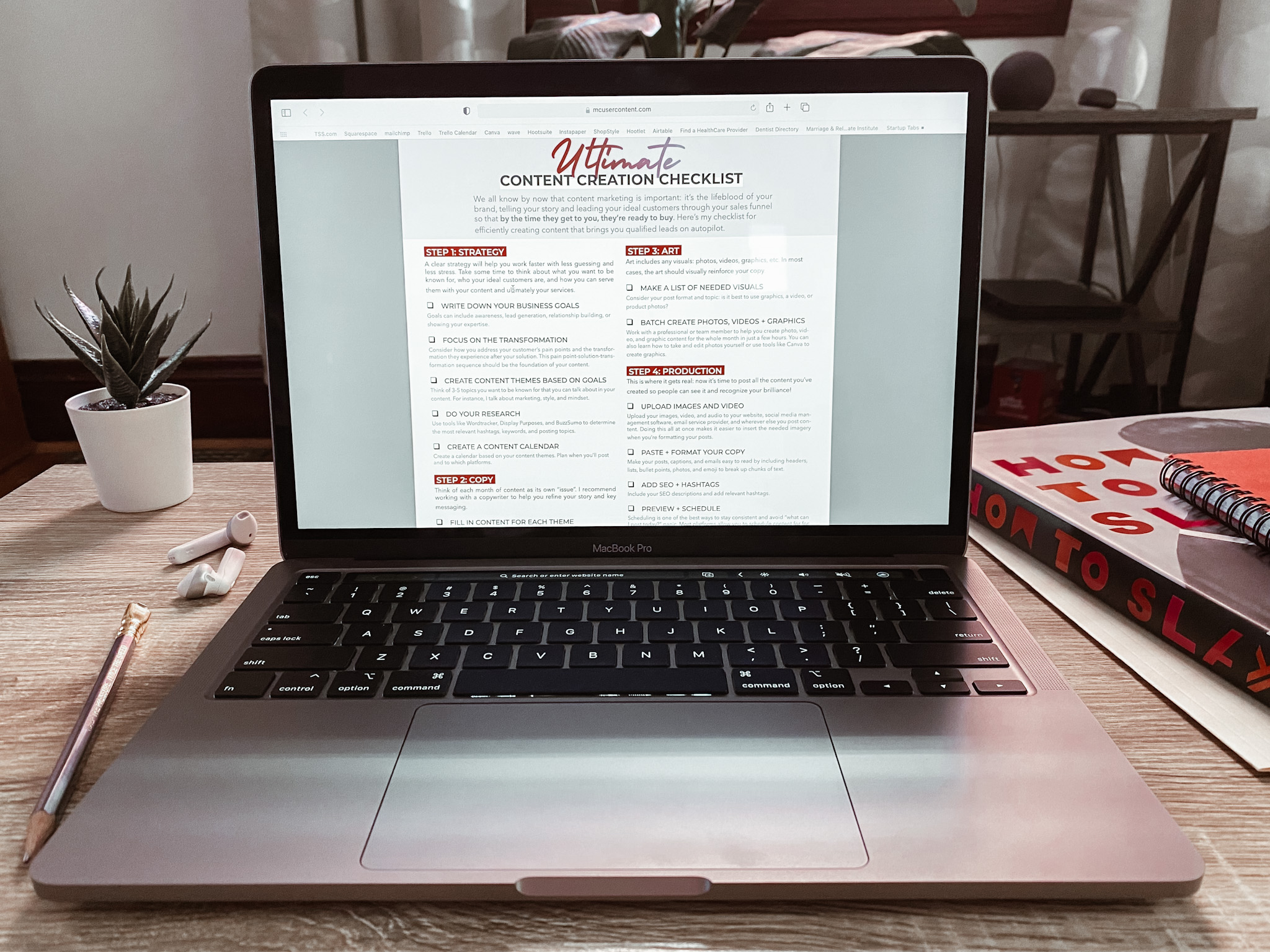 ☑️ WRITE DOWN YOUR BUSINESS GOALS
Goals can include awareness, lead generation, relationship building, or showing your expertise.
☑️ FOCUS ON THE TRANSFORMATION
Consider how you address your customer's pain points and the transformation they experience after your solution. This pain point-solution-transformation sequence should be the foundation of your content.
☑️ CREATE CONTENT THEMES BASED ON YOUR GOALS
Think of 3-5 topics you want to be known for that you can talk about in your content. For instance, I talk about marketing, style, entrepreneurship, and mindset.
☑️ DO YOUR RESEARCH
Use tools like Wordtracker, Display Purposes, and BuzzSumo to determine the most relevant hashtags, keywords, and posting topics.
☑️ CREATE A CONTENT CALENDAR
Create a calendar based on your content themes. Plan when you'll post, what you'll post, and which platforms you'll use. The more you figure out up front, the more consistent and effective your content will be.
With the right strategy in place, your content will do the work FOR you.
If you want your content marketing to contribute to the growth of your business and your bottom line, your strategy should be to lead your followers and readers down your sales funnel so they're primed to buy from YOU, saving you time and energy.
Looking for more ways to streamline your content marketing, get clear on your process and save time?
[qode_elements_holder background_color="#e0dee2″ number_of_columns="two_columns"][qode_elements_holder_item background_image="21726″]
[/qode_elements_holder_item][/qode_elements_holder]